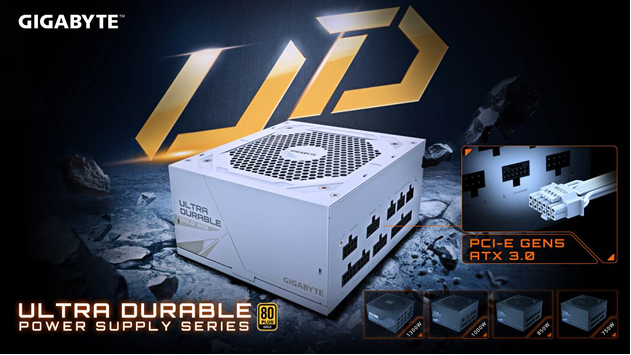 GIGABYTE TECHNOLOGY Co. Ltd, a leading manufacturer of premium gaming hardware, today introduces the latest UD850GM PCIE 5.0 White Edition and the UD750GM PCIE 5.0 power supplies. The two new power supplies fully support the PCIe Gen 5.0 specification. The UD850GM PCIE 5.0 White Edition power supply can deliver up to 600W of power directly to the graphics card through an included high-quality 16-pin cable, fully meeting the power requirements of the new generation graphics cards. Meanwhile, the UD750GM PCIE 5.0 power supply can deliver up to 450W of power to the graphics card through the 16-pin cable, making it the optimal solution for mid-range to high-end graphics cards.
The two power supplies also fully comply with the Intel ATX 3.0 standard and can sustain up to two times total power excursion. Furthermore, both adhere to GIGABYTE's Ultra Durable design philosophy, incorporating various high-quality materials and designs to provide users with the safest and most reliable power supply.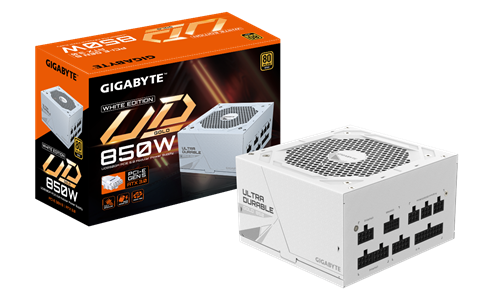 To offer gamers a distinctive alternative beyond the conventional black aesthetics of gaming, GIGABYTE is at the forefront of fashion trends with the launch of the stylish UD850GM PCIE 5.0 power supply in elegant white. This power supply unit combines cutting-edge design with aesthetics, presenting a clean white coating that imparts a graceful touch to the metallic casing. All modular cables are finished in crisp white, allowing gamers who seek to break away from conventional impressions to indulge in a more flawless and white-themed choice. Illuminate your gaming setup with a unique radiance that stands out, becoming the centerpiece of your desk. With a rich history of innovative design and unparalleled quality, GIGABYTE brings you an unprecedented visual and technology.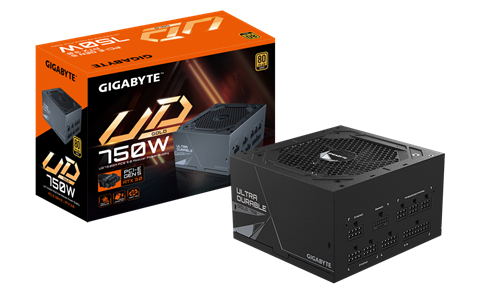 The two newly launched power supplies offer comprehensive support for the latest PCIe Gen 5.0 and ATX 3.0 standards. Unlike traditional power supplies that require a multiple 8-pin to single 16-pin adapter for the PCIe Gen 5.0 graphics cards, both the UD850GM PCIE 5.0 White Edition and UD750GM PCIE 5.0 power supplies only require a single 16-pin cable to deliver direct power to PCIe Gen 5.0 graphics cards, delivering up to 600W and 450W respectively. This design offers greater convenience and safety for graphics card installation and promotes a more organized and aesthetically pleasing interior in the computer case, while also enhancing airflow for improved efficiency.
Furthermore, both power supplies are fully compatible with the Intel PSDG (Power Supply Design Guide) ATX 3.0 standard. They support up to 200% power excursion, reach 70% low load efficiency and comply with required power supply timing standards.
The two power supplies adhere to GIGABYTE's philosophy of Ultra Durable design, combining high-quality main Japanese capacitors, an enhanced thermal solution, a 120mm HYB smart fan, and circuit protections including OVP/OPP/SCP/UVP/OCP/OTP. These features ensure a stable and reliable power supply, providing users with a lasting and high-quality usage experience. Additionally, both power supplies feature such as 80 PLUS Gold certification, full modular design, and a compact size, making it the ultimate choice for high-end gamers and overclocking enthusiasts who seek superior quality and ultimate performance.
GIGABYTE Technology is continuously innovating, delivering a comprehensive range of power supplies that support PCIe Gen 5.0 and ATX 3.0 standards. This series not only leads the industry but also offers a variety of options including 1300W, 1000W, and 850W. Adding to this lineup, we introduce a stylish white 850W variant and a 750W version tailored for mid-to-high range graphics cards. This comprehensive range perfectly meets the requirements of various systems, delivering optimal output for the computational performance of the latest graphics cards.
For more information, please go to
UD850GM PG5W https://www.gigabyte.com/Power-Supply/GP-UD850GM-PG5W
UD750GM PG5 https://www.gigabyte.com/Power-Supply/GP-UD750GM-PG5
You might also like
---
More from News
---
Liminal, a leading regulated digital asset custody provider renowned for its innovative multi-party computation (MPC) wallet infrastructure, recently celebrated its …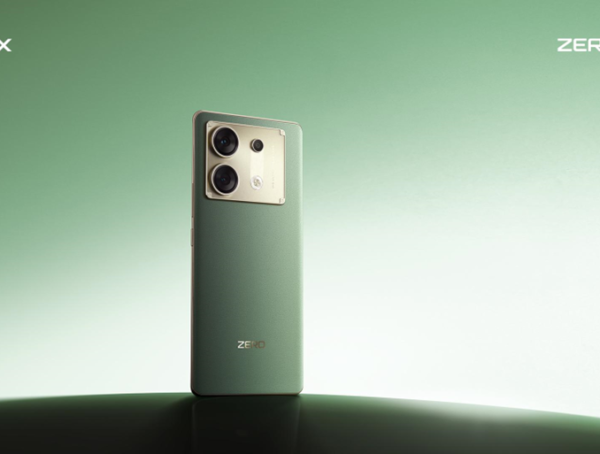 72
The social media age has created a generation that's able to create all kinds of content on the go. Smartphones …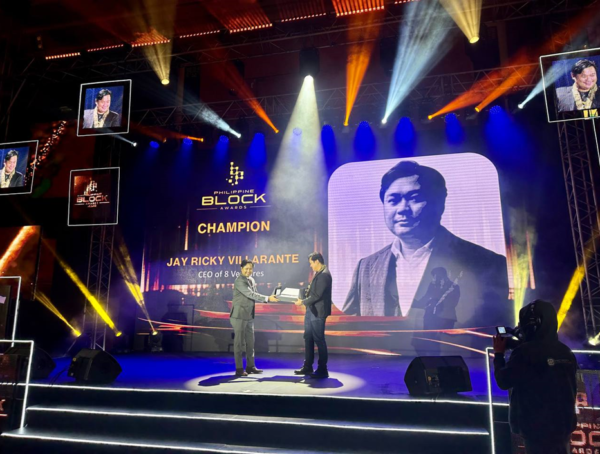 78
Jay Ricky Villarante, Chairman and CEO of several local blockchain companies, has been honored as a recipient of the prestigious …